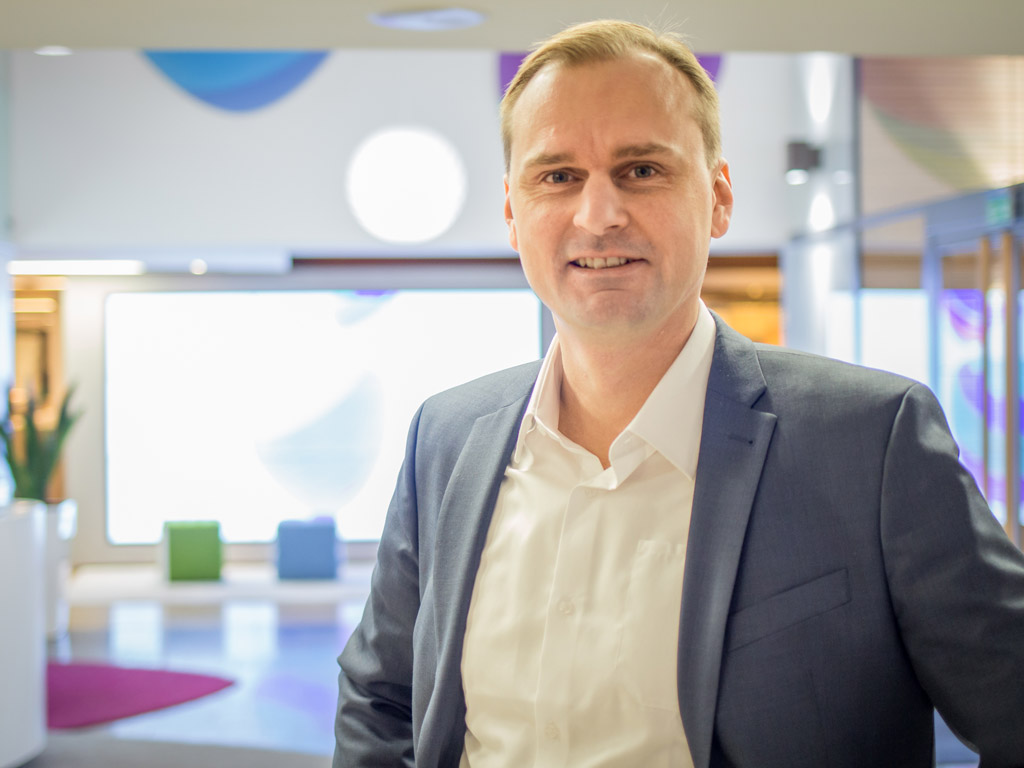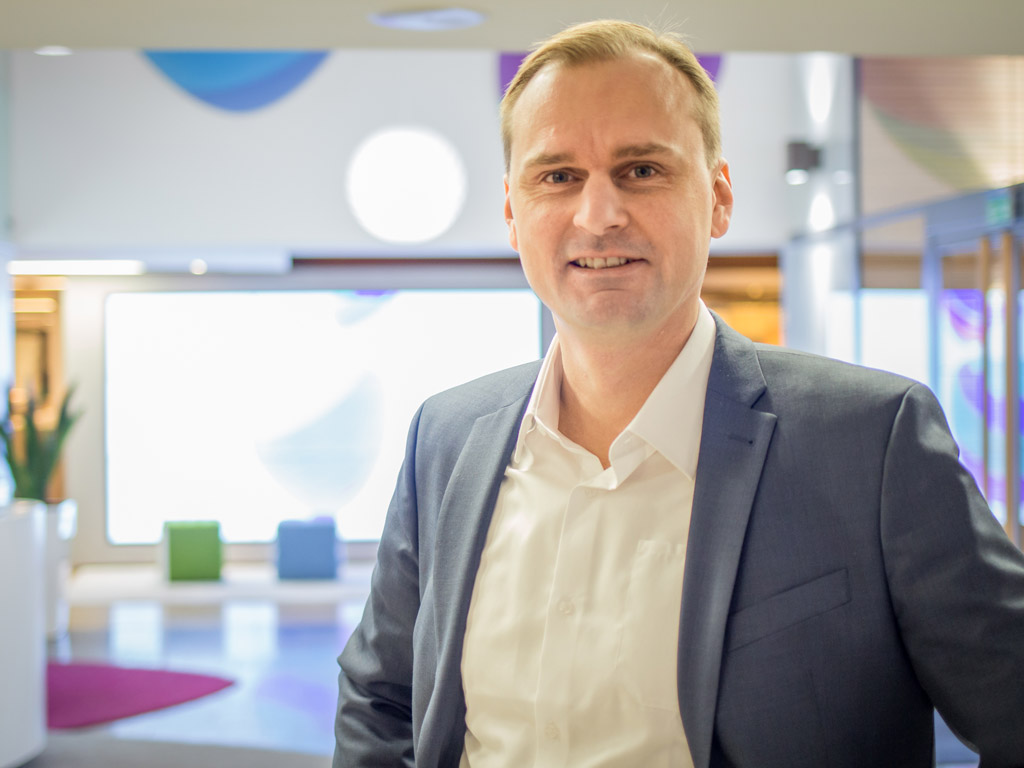 The first 5G trials have been launched, and there is more and more buzz around the new generation of mobile communications. Many people are wondering when 5G can be found in their own pocket. It would, however, be wiser to think what the new super network will make possible. Janne Koistinen, head of Telia's 5G program, has a bold vision. He believes that 5G technology can pull the Finnish economy into a rapid upturn and improve Finland's competitiveness globally.
What is his vision based on and what are the things enabled by 5G that can't be achieved with the current network technology? Koistinen and Tommi Mattila, head of business line at Telia, visualize a future where Finland is one of the top countries in 5G technology and digitalization.
Exciting events improve the customer experience and the efficiency of sales
"Meet your mother-in-law virtually," Mattila says, followed by a laugh. 5G actually makes it possible to visit different places and events virtually, e.g. a football game of your favourite team, a concert on the other side of the world, or a physics lesson during which the pupils visit a particle physics lab.
Taking a close look at Madonna's famous arms using a virtual reality headset sounds fun, but it is also possible to use augmented and virtual reality solutions, for example, to improve the customer experience, expedite the purchase decision and facilitate e-commerce, such as making purchases in an online store.
"In retail, AR and VR solutions help to illustrate the available product in a completely new way," Mattila explains. "If the customer is buying a product without being able to see it physically, they can see a very realistic picture of the ready-made product virtually. This kind of implementation is suitable for many industries and purposes, such as an online store or, say, new construction. Future AR and VR solutions can genuinely promote the closing of deals, and the experience is completely different with a 5G connection."
Finland has been partly overshadowed by foreign online stores. In other words, here we might have an opportunity to catch up by being among the first to launch new kinds of solutions for online shopping in a genuine-like virtual environment. According to the boldest visionaries, it could even be possible in the future to try on clothes virtually. This would also reduce the costs and environmental impacts of customer returns.
Video analytics and real-time status view
Augmented and virtual reality solutions are also suitable for transmitting real-time status view from a factory, for example. When an employee dives into augmented reality, a machine or device may tell them that it needs servicing, for example, so that it won't be necessary to manually seek the devices needing servicing or new spare parts from among hundreds of devices. An employee can also receive information on the status of a spare part delivery, for example, or on what spare part should be replaced in the device.
"In the production industry, attaching IoT sensors to machines during their construction has proved a useful solution," says Mattila. "They show a device's, machine's or vehicle's degree of readiness, which can be examined using augmented reality solutions. This makes it possible to estimate more accurately than before when any unfinished work will be completed and when the following work phases can be started. In addition, analytics makes it easier to assess the bottlenecks in production."
The efficiency of IoT is based on a large volume of light data that can be analysed almost in real time, thanks to high-speed connections. 5G will be able to show its true potential, for example, in video analytics. The use of video analytics in the assembly line of Nokia's factory in Oulu has given a foretaste of this.
"We transmitted video in Nokia's 5G test network from Oulu to Telia's data center in Helsinki. Thanks to the low delay, the video analytics application was able to react immediately and notify the employee responsible for the assembly line of deviations, which could then be fixed in real time to improve the quality, reliability and efficiency of the process," says Koistinen.
Smart cities and traffic, health care, entertainment, virtual conferences, automation, robotics, learning – the number of uses is unlimited, and we can't even fully imagine all of them yet. To companies and organizations, the benefits of 5G mean, for example, new innovations, service-oriented business, savings in working hours and maintenance costs, and improvement in efficiency and quality.
To put it simply, this means making the business processes and models real-time and more strongly data-based. Adding six minutes to workdays may be a way of increasing the competitiveness of Finland but, if correctly used, new technologies may do the same and much more – if we are among the first to react to the opportunities they offer.
Motivation and inspiration through 5G pedagogy
It is not only business and industry that 5G will change. 5G pedagogy will change the ways of learning and teaching. It supports phenomenon-based learning, where the starting point is real-world phenomena and an inquiry-based approach to learning.
Things and phenomena of the physical world can be investigated virtually in a highly genuine-like environment. It is a completely different thing to read about the flora of the savannah in a textbook than to make a virtual trip to the savannah – or, say, attend a class on the other side of the world. Real-time VR solutions require a high-speed 5G network, which will bring completely new dimensions to learning.
The Arabia comprehensive school in Helsinki is an innovative experimental school with which Telia has tested augmented and virtual reality solutions that support teaching. HoloLens glasses, for example, have been used at the school in a design course and in mathematics and physics classes.
"The glasses have been used as a tool for sketching," says teacher Iida Jääskeläinen. "The 3D-modelled pieces created by means of them feel more concrete and part of the physical reality."
"During a course, we noticed that the opportunity to test new technology and learn things in a new way strongly motivates some pupils. For example, pupils who were not excited about modelling by means of a computer became very interested when they were able to use HoloLens glasses," says Jääskeläinen. "In the future, learning should be authentic, and digital media should be used in an appropriate context, so that there is a connection with the future working life."
Estonia has left Finland behind in Pisa results in all other subjects except reading. In an article by Helsingin Sanomat, university researcher Arto Ahonen says he believes that the difference lies in motivation. According to him, the school culture in Estonia is partly old-fashioned but, on the other hand, the teaching methods are modern, and people have an open-minded attitude towards using digital devices as tools. If new technology is utilized correctly and it is made easy to use for both pupils and teachers, it provides opportunities to revolutionize the ways of learning and to inspire the pupils for whom the traditional teaching methods are challenging.
"The social exclusion of young men, in particular, has become a common topic in Finland, and it has impacts on the entire society. We need new ways to tackle it. Digital tools used at schools and educational institutes will not solve all the problems underlying social exclusion, but they can still be a part of the solution," says Koistinen.
The benefits of 5G can thus be applied widely both in society and in companies' business operations. However, gaining an edge requires acting today instead of tomorrow.