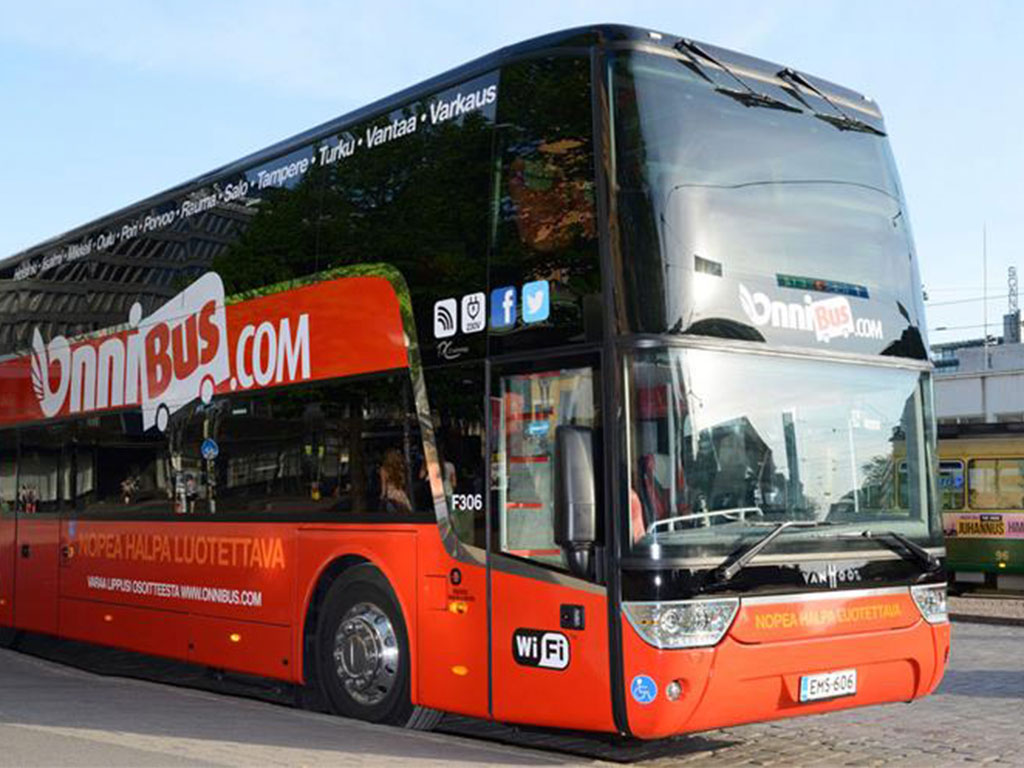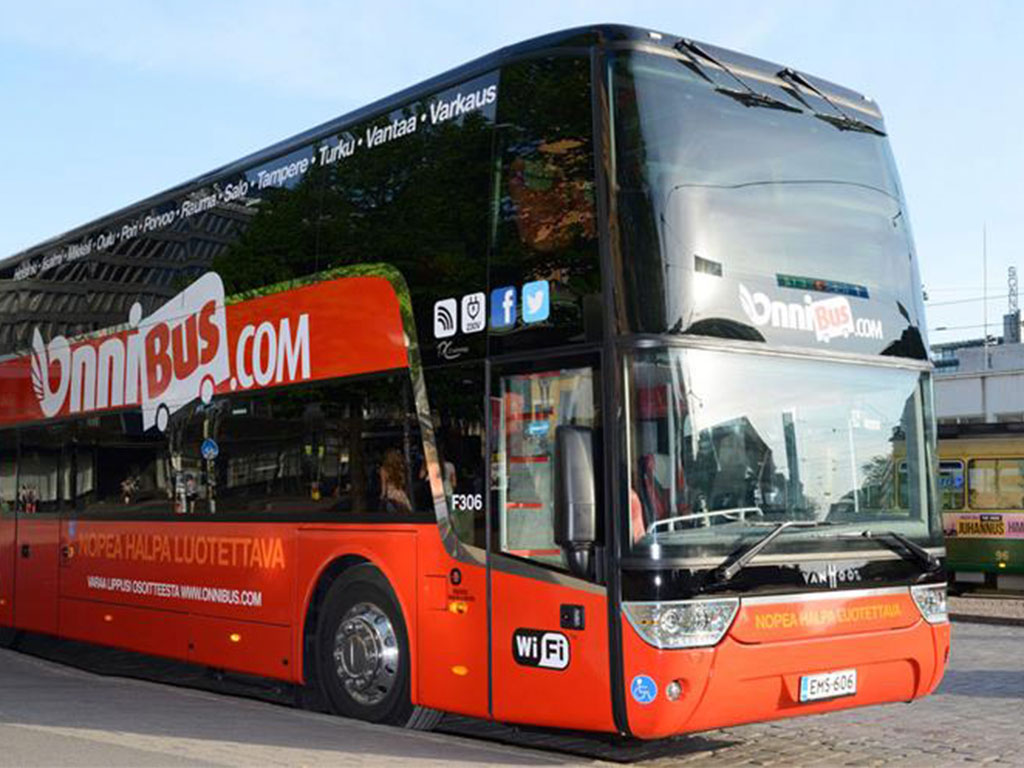 Launched in 2012, OnniBus.com is a leading long-distance bus service in Finland. The company that started its business with one bus between the cities of Tampere and Pori has rapidly grown into one of the best known brands in Finland, revolutionising the entire public transport business and making buses once again a considerable means of travel. With Telia's Connected vehicle solution, the company is primarily seeking fuel savings.
Lauri Helke, CEO at OnniBus.com says that OnniBus vehicles travel across Finland every day of the year. "Our 128 buses travel 28 million kilometres annually as the 300 drivers work to realise 5 million individual trips. We have 70% control of Finland's long distance bus traffic."
"OnniBus.com was among the first ones in Finland to start using Telia's smart traffic solution. Connected vehicle has been designed to optimise the operation of heavy equipment using real-time operating data. The service will be installed in all 68 double-decker buses and possibly also in the 60 single-deckers," says Telia logistics solution specialist Satu Orava.
Up to 5% fuel savings annually
"Connected vehicle provides many benefits compared to the present state. With the service, we can combine many services that were previously sourced from several vendors. The number of mobile subscriptions has decreased from seven to two, and we can access the vehicle's CAN bus errors, allowing us to fix things," Helke says.
"With the Telia solution, the driver logs into the vehicle system using a statutory digital card, which is a highly secure means of login. Previously, the drivers might not always remember to log in with a key identifier, and we would lose data, as well. We will use this solution to remotely read digital tachographs and cards. This will then allow us to remotely monitor that the driving times are fulfilled and the digital cards are constantly being used. Data is a highly powerful tool for management, because what you don't measure, you can't manage."
"We have started publishing driver-specific performance to our staff at each station on a monthly basis. This is an incentive to notice the results we can obtain with data through economic driving."
"The key for OnniBus to the introduction of the service is the driver-specific reporting of driving habits and fuel consumption. The data produced by Connected vehicle allows us to attain 1–5% annual fuel savings. With the double-decker buses alone, we burn some 5.5 million litres of fuel annually, which translates to a fuel expenditure of approximately €6 million. This means significant savings because we will also save on tyre and other vehicle operating expenses. And the nature says thanks, too," Helke adds.
"This is exactly the kind of IoT solution that our customers have been waiting for. The talk about the revolution of traffic is not just a hype. It is happening here and now," Orava concludes with a smile on her face.
Challenge: How will the drivers remember to log into the vehicle to produce data? And how can the driving habits be made cleaner and fuel savings generated, given the 28 million road kilometres driven with OnniBus vehicles each year?
Solution: Telia's Connected vehicle solution, where logging into the vehicle is done with a statutory digital card. The service offers real-time operating data, enabling fleet optimisation.
Benefits: Safer and cleaner driving habits and 1–5% fuel savings annually.