Build a secure digital future for your business
When the significance of business data grows, secure data storage, refining and transfer may require new solutions. Whether you need a platform for services enabled by the fourth industrial revolution (such as robotics, IoT and 5G) or just a simple rack, Telia Helsinki Data Center is here for you.​
Our open Data Center provides data center, cloud, and infrastructure services for both Finnish and international companies and organizations – with ease, speed, and security.
Telia Helsinki Data Center Certificates
Nordic data center location with global reach
Telia Helsinki Data Center
Valimotie 3-5
00380 Helsinki
Finland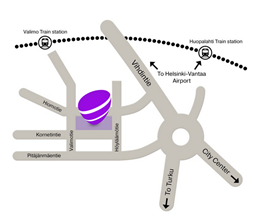 Open for all companies

Carrier-Neutral

15 000 m² data hall space

24 MW IT-power capacity

Critical Power: 2# 110kV + 2# 50MVA site supplies

Designed and built based on TIER III and EN50600 standards

Top-quality networks

Near Helsinki city centre

Eco-friendly

Quality - 100% Uptime operational record
Cabinets 800 * 1200 * 2500 mm (52 RU)

Power range 6,5 kW – 19,5 kW per cabinet

In-house connections according to needs

Power feeds AC UPS N+1, 10 min / GEN N+1 backup

Standard-PDUs (A+B), 3-phase

Cooling capacity N+1

Automatic extinguishers

Access control and camera surveillance

State-of-the-art data center facilities for all needs
We closely monitor the energy efficiency of our data center, PUE goal <1.2

We use carbon-neutral, renewable energy in our operations

The waste heat generated by the servers is collected and utilised, e.g. in the district heating network

We use rainwater to flush the toilets

Waste generated in the data center is recycled and reported in accordance with Telia's instructions

The authorities monitor our activities subject to environmental permits and carry out periodic inspections

The data center has been awarded LEED Data Center v.4.0 and CEEDA Design-Operate gold certificates

The operations are certified by the ISO 14001 Environmental Management System and the Energy Efficiency System (ETJ +)
Four separate, independent fibre optic paths to the data center

Four separate meet-me rooms

Carrier-neutral

Several national and international operators present

Arelion's global backbone network

Direct cloud connections (e.g. Telia Global Cloud Connect, Megaport Cloud Connect)

Comprehensive and secured fibre optic in-house network

Available as additional services, e.g. firewall services, DDOS security, routers and other devices

Connectivity and capacity: Multiple network operators with a wide range of services to meet your most demanding needs

Flexibility: As equipment power density increases or decreases, services scale as needed

Reliability: Reliability is taken into account in technical design, independent systems and customer-specific user experience

Security: Excellent physical security and safety measures

Location: Close to the center of Helsinki, well connected – short network delays

Customer service: We serve our customers around the clock

Duplicate data halls: In the data center premises and, if necessary, geographically distributed

Short commitment time: Cabinets can be quickly commissioned and terminated within a 2-month notice period

Are you already a data center customer? Manage and subscribe to your data center services:
Log in