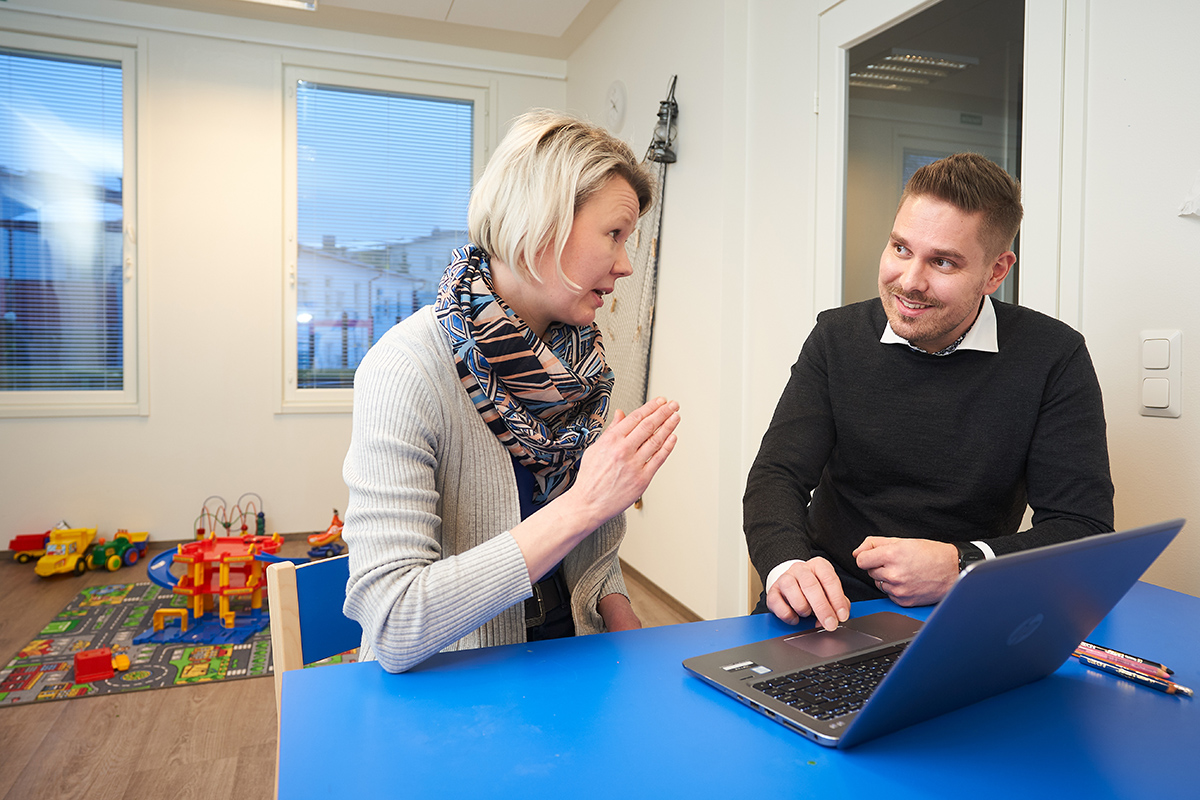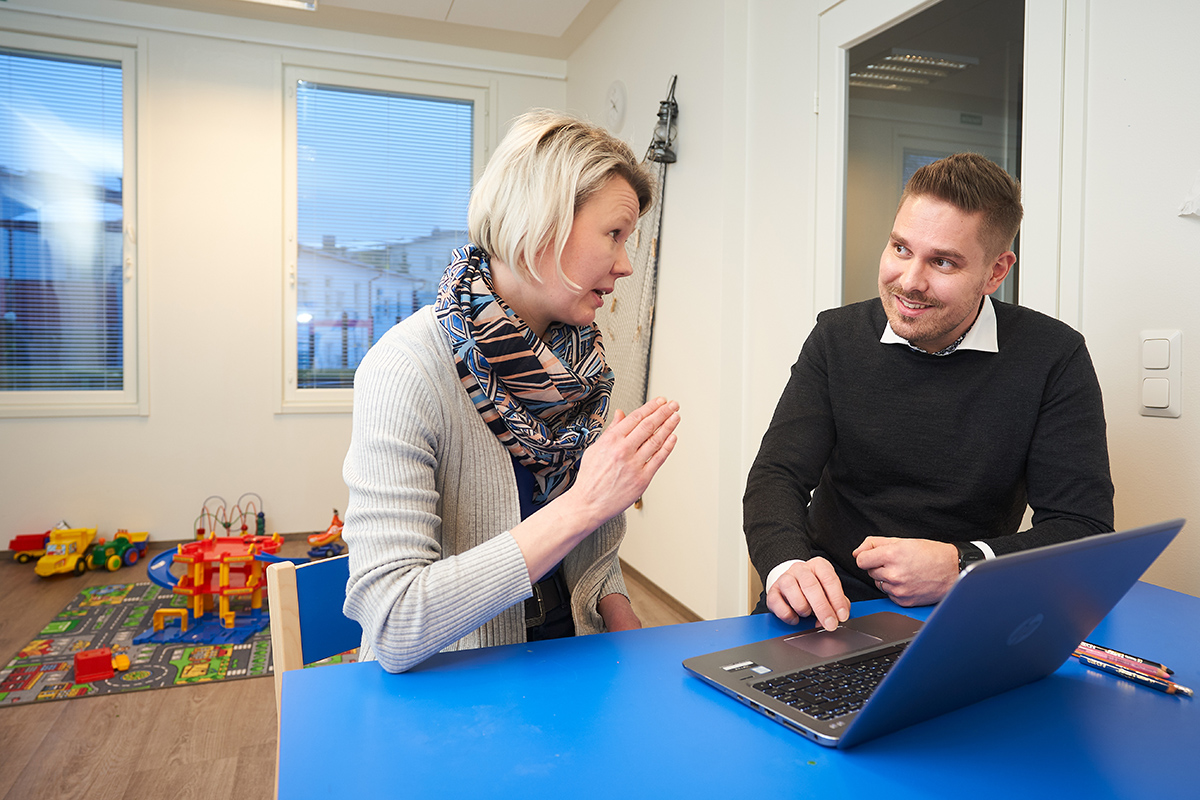 The walls of a day care centre in Kerava are lined with 18 watchful sensors. They alert immediately if the level of carbon dioxide or noise rises too high. Good indoor air quality is also ensured with living green walls.
Less noisy and stuffy facilities, more fresh air and humidity. The graphs on the computer screen clearly show that the Touhula Jokilaiva day care centre in Kerava can take pride in its good indoor air quality.
"It feels great to say with proof that our facilities are healthy and safe."
Pekka Lantto, Facilities Manager at Touhula, explains the graphs displayed on the screen.
"In these rooms, relative humidity has gone up by 15%. Moreover, indoor carbon dioxide and noise levels and the amounts of volatile organic compounds, in other words air pollutants, are clearly below recommended values."
The results satisfy Antti Arokoski, Director of the day care centre. Launched in November 2017, the joint indoor air quality pilot study with Telia has exceeded all recommended values.
"All measurement results have been consistently well above the recommended levels, which is fantastic. It has been exciting to follow the indoor air data being updated in real time, and the results are based on hard evidence. There's nothing better than knowing for a fact that we spend our days in facilities that are clean and healthy".
PROBLEMS CAN BE TACKLED WITHOUT DELAY
Telia and Touhula daycares measure indoor air quality and properties at three day care centres: Jokilaiva in Kerava, Hiekkaharju in Vantaa and Metsokangas in Oulu.
The centres are installed with several Telia IoT-Office indoor air sensors, and the results are monitored by Telia experts together with Touhula. The length of the study is six months, and the first measurement results are now under analysis here in Kerava.
"Touhula daycares operate mainly in new facilities, and no indoor air quality issues have been previously found in the currently tested day care centres. However, we wanted to investigate the conditions to which the children and our personnel are exposed. We are the largest chain of private day care centres in Finland and feel that it is our responsibility to carry out measurements of this type and to share knowledge on matters related to indoor air quality", says Pekka Lantto.
Kirsi Säkkinen, indoor air specialist at the Organisation for Respiratory Health in Finland, is visiting to review the measurement results. She explains that poor indoor air quality is a major issue in the country and a cause for many kinds of health hazards.
"Good air quality reduces fatigue and improves well-being. Taking care of clean and fresh air is essential, as this also prevents problems from arising."
According to Pekka Lantto, prevention is precisely the key issue in the indoor air pilot study.
"The sensors alert immediately if, for instance, the level of carbon dioxide increases or the relative humidity of indoor air drops too low. This way, problems can be addressed right away instead of waiting until people start to develop symptoms."
ADDRESSING THE ISSUES INSTEAD OF COMPLAINING
The indoor air project has been well received by everyone, from parents and children to day care centre personnel.
"The project has raised a lot of positive interest. The pilot is still underway and I am personally only just learning to interpret the graphs, but it would be worthwhile in the future to share the information on indoor air quality to parents. I believe that clean indoor air will become an important competitive factor," says Antti Arokoski.
The facilities at Jokilaiva are equipped with 18 sensors by Telia that collect data on temperature, air humidity, carbon dioxide level, air pressure and acoustic pressure. They are mounted on walls at the head height of the children. Some of the sensors also measure luminosity, volatile organic compounds and movement.
Pekka Lantto says that the measurements have already lead to concrete actions.
"At one of the rooms in Jokilaiva, carbon dioxide levels spiked above average on a few occasions. We called the building services technicians and they noticed that the incoming air to the room was adjusted to be 30 litres too low from the planned value. Without the Telia sensors, the flaw would likely not have been detected. Or, we would have simply complained about the stuffy indoor air. Now, however, the problem was easily fixed."
The Jokilaiva day care centre opened in January 2017. Indoor air data is also monitored closely in Vantaa and Oulu: it is essential to investigate how the promised indoor air conditions and planned values of new properties are fulfilled in practice.
"Diligent property maintenance plays an important role in indoor air quality and the indoor environment as a whole," says Lantto.
STUFFY AIR THE MOST COMMON PROBLEM IN DAY CARE CENTRES
According to Kirsi Säkkinen from the Organisation for Respiratory Health in Finland, stuffy air is the most common indoor air problem in day care centres.
"While the structures may have mould or moisture damage, it is often the case that problems are caused by insufficient or defective ventilation. The air supply unit may not be serviced, the filters replaced or the ventilation ducts cleaned, or the air supply may be inadequate for the number of children in the facilities. There are also day care centres with natural ventilation without mechanical air supply systems. These facilities often require more frequent ventilation with the outside air, resulting in draughtiness and cold floors."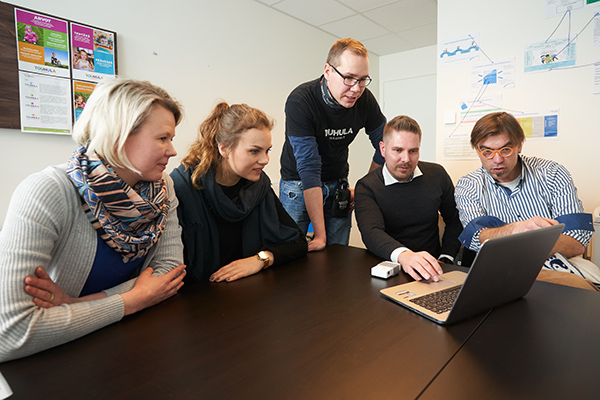 Indoor air is the sum of many factors. Problems may arise at various stages from planning and design to construction, even after the implementation of the facilities if their maintenance is neglected.
"Indoor air is considered to be good when its users are satisfied and the air is free of any health hazards such as smells, dust or noise. The quality of indoor air can be improved by ensuring sufficient ventilation, using low-emission and dust-free interior materials, adjusting the room temperature to 20–22 degrees centigrade and by cleaning the facilities weekly," says Kirsi Säkkinen.
Indoor air quality can be measured through various methods, and Säkkinen also welcomes the new, AI-based solutions.
"Most importantly, any detected flaws must be addressed as quickly as possible. With many potentially problematic properties, money is certainly an issue. The prioritisation and speed of needed repairs also varies. Awareness of indoor air issues has increased and any discussion on the topic is naturally of great help."
IMPROVED HUMIDITY WITH SMART GREEN WALLS
At the three Touhula pilot day care centres, indoor air quality is also improved by smart green walls by the Finnish company Naava. At the Jokilaiva centre in Kerava, the walls have been in place since the start of the year.
"The first clear observations have been very positive. If we compare the measurement results between November 2017 and January 2018, relative humidity is at a very low level of 10% in rooms with no green walls by Naava. In contrast, the three rooms that have been installed walls by Naava measure air humidity levels at 25 percent. The difference is significant," says Jarno Mikkonen, Research Manager at Naava.
Dry indoor air is a common problem, particularly during freezing winter temperatures. Dry air causes irritation of the airways, mucous membranes and skin and increases the risk of mucositis.
According to Mikkonen, several studies have shown that Naava walls eliminate harmful chemicals from the air and increase air humidity. The soil-free, inorganic growth medium contains no bacteria typical to soil, and the plants for the wall are selected to be optimally safe, non-toxic allergy-friendly.
"The purification power of a Naava wall is more than sufficient for one room. Just one plant mounted on the smart wall purifies the air a hundredfold more efficiently than a typical house plant. A single Naava contains a total of 63 plants, which translates to the air purifying power of several thousands regular plants.
The substantial enhance in natural purification power is achieved with a specially designed growth medium, active ventilation and the use of technology that sustains the well-being of the plants.
VERSATILE IOT TECHNOLOGY
The Naava smart walls are made intelligent by a patented growth medium, ventilation technology and an artificial intelligence that automatically adjusts lighting, ventilation, temperature and humidity.
"Plants also serve to create more comfortable spaces, which reduces stress levels and improves concentration. The children have been very interested in the walls. Although some of the younger kids have nibbled on the plants, the walls have been spared from becoming a side-dish salad. Their educational aspect is also important, as the children take part in caring for the plants and we have learned new species of plants and discussed the miracle of growth," says director Antti Arokoski.
The technology of the sensors that monitor indoor air quality are based on the Internet of Things (IoT). At Telia, various IoT-based solutions are currently becoming rapidly more common. IoT technology has been used for purposes ranging from monitoring district heating networks to planning maintenance for lightweight crane systems and designing smart letterboxes.
Mikael Sundholm, IoT Solutions Manager at Telia, says that the Touhula indoor air pilot study exemplifies how the Telia IoT Office service creates real everyday benefits.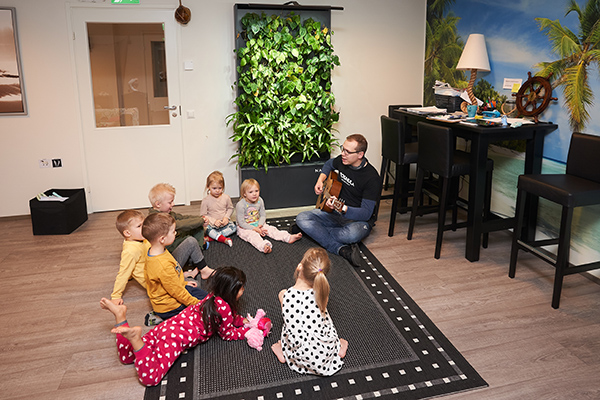 "It is excellent that some flaws have already been detected and addressed thanks to the data measured by the sensors. It is important that all parties have access to the same graphs. Once the information is in the open for everyone to see, there is no more need for guessing. Any issues are simpler to discuss when the results are based on facts and real measurement data."
Text: Henna Rautiainen
Images: Kimmo Räisänen