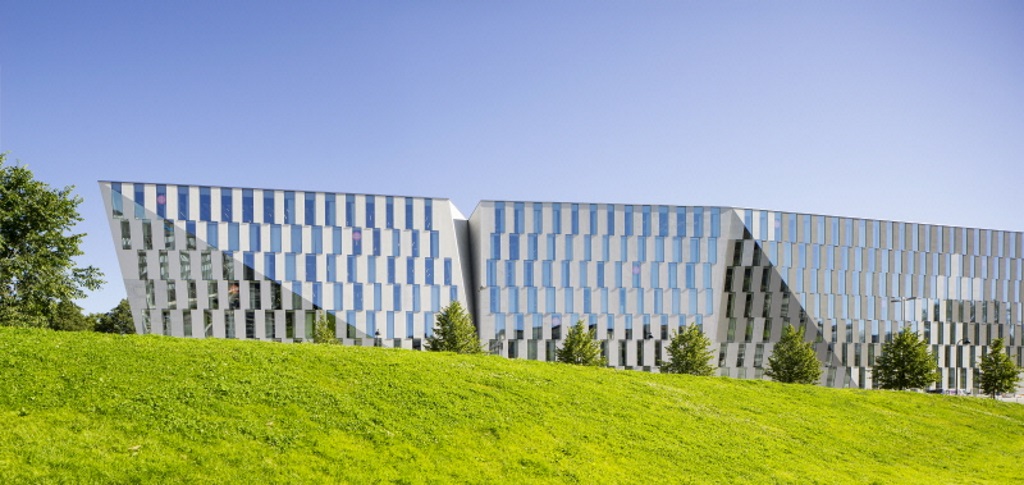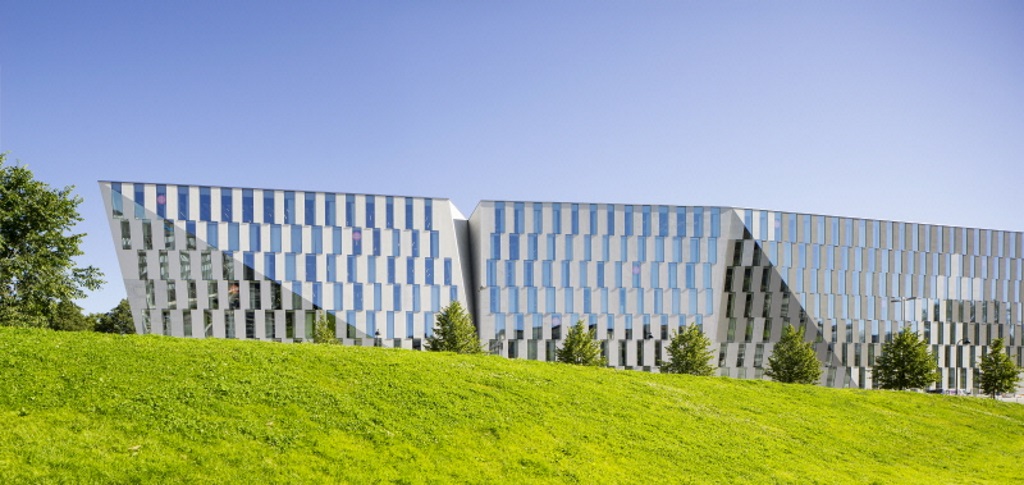 Towards a flexible and paperless bank
OP's office in Vallila with its 3,000 employees is tomorrow's bank office in existence today. The office wants to offer its customers a new kind of bank experience. Everything looks modern and fresh, but what really matters is the content: the office was designed with the optimal customer experience in mind.
The customer's path and the service level at different steps have been considered carefully. Digitality was one guiding principle during the process. Digitality plays an important role in the office's routines − not just in the appearance but also in the practices. The office is taking big steps towards the paperless bank, and making use of the social media is an everyday matter. The Vallila office provides bank, insurance and financial management services.
The Vallila office is a prototype for OP's whole chain of offices, and the target is that it would be two years ahead of all other offices. In the office, new practices and new tools are tested in genuine customer environments, with the help of both customers and bank employees. The aim is that the Vallila office would find new best practices that could be recommended to all other OP offices.
Wireless access enables higher quality working days
The Managed LAN project of OP and Telia was launched in 2014, and it was brought to an end in the summer of 2015. Since then, the service has been expanded to 300 other OP offices, and new offices around Finland are constantly being connected.
Before the office in Vallila was opened, OP did not have wireless access in its offices, and network connections always broke if employees moved to another desk.
"The move to the Vallila office changed our practices in many ways. A landscape office with separate rooms for telephone calls and meetings replaced dedicated desks. Lync/Skype calls work without breaking in the whole block, and also other connections work seamlessly. Wires are no longer needed," says OP's Timo Lappeteläinen, service manager, production.
In a security-sensitive industry, the requirements for information security and network access are high. Concentrating the service on a single vendor improves cost-efficiency and information security. In case of problems, it is easier to have only one stakeholder.
"Our customers experience the new LAN solution as a guest network, which allows them to access the Internet from their own terminal devices in our offices. We have also purchased, for example, tablet devices for use in customer meetings," says Lappeteläinen.
Need
As OP's head office moved to a modern block in Vallila, practices also changed. Fixed workstations were abandoned, and mobile working became a standard. New communications methods set new requirements for the availability of the local area network and for the real-time transmission of voice and image.
Solution
To enable seamless mobile work, an efficient and secure WLAN solution was needed. OP selected Telia's comprehensive Managed LAN solution, which includes 24/7 monitoring, management, updates and maintenance for devices and services.
Benefits
The Telia Managed LAN solution provides reliable authentication when the user moves from place to place. The user's connection to the services and applications does not break. The solution is secure and user-friendly.
OP Financial Group is Finland's largest financial services group whose mission is to create sustainable prosperity, security and wellbeing for its owner-customers and in its operating region by means of its strong capital base and efficiency. OP Financial Group consists of about 180 member cooperative banks, its central cooperative OP Cooperative, and the latter's subsidiaries and affiliates. The Group has a staff of 12,000. and 1.7 million owner-customers and 4.3 million customers. www.op.fi